Marking and coding equipment should help contract packagers improve productivity. Diagraph accomplishes this by keeping equipment intervention requirements for our product identification equipment to a minimum.
We design and manufacture coding and labeling equipment to last longer
We are focused on operator and maintenance team product training
We partner with customers to develop a proactive game plan that keeps their coding and labeling equipment well utilized and appropriately upgrade
Designing Coding and Labeling Equipment to Last
Diagraph's coding and labeling equipment runs cleaner for longer between required interventions and withstands wear and tear, increasing its useful life. This leads to greater equipment uptime and a stronger return on investment over the life of Diagraph equipment.
The number of steps required for routine interventions as well as the length of time between those interventions is minimized. Product capabilities like automatic printhead cleanings help keep inkjet coders operating with optimal print quality for longer. Examining consumable replenishment practices and centralizing ink refills or providing a quick turn label stock webbing approach makes required interventions quicker and hassle-free.
Finally, quality materials and thoughtful engineering matter when it comes to the longevity of your equipment. Diagraph's focus on impact resistant designs – whether it be an inkjet coder or a labeler – ensures long-term product reliability.
Setting People Up for Success
After making sure your product coding equipment is properly matched to your application and contract packaging environment, it is essential to make sure your line operators and maintenance staff know how to properly handle and maintain your equipment.
Diagraph's equipment is designed to have fewer touchpoints to enable hassle-free installation, training and maintenance. These easy access touchpoints minimize the amount of time required and eliminate the need to access the entire system to perform maintenance or changeovers.
Because contract packagers regularly deal with worker turnover challenges, routine training to keep workers knowledgeable and able to be good stewards of your equipment is critical. We offer refresher-level training opportunities with each scheduled service visit from a Diagraph field service engineer. In addition, in-depth training is offered on location or at the Diagraph training facility in St. Charles, Missouri.
Partnering to Develop a Game Plan
Our most successful customers partner with us to regularly evaluate and maintain their coding and labeling equipment. We perform routine equipment assessments, provide regularly scheduled service and develop long-term equipment upgrade plans
.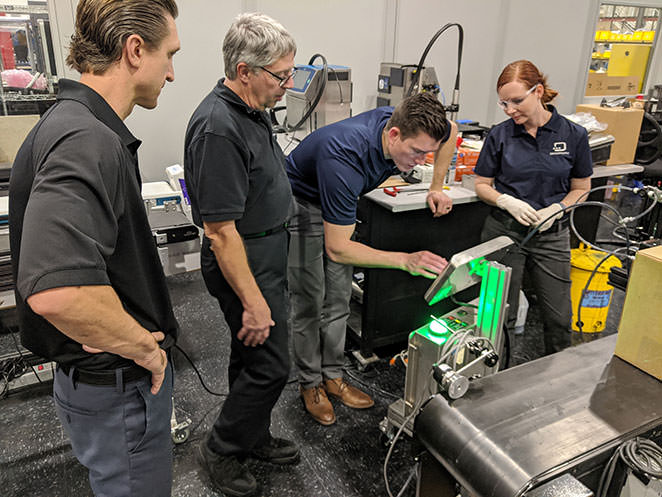 Equipment is kept running longer and the need for unplanned interventions is reduced by staying ahead of wear-caused failures and by properly maintaining equipment. As with all things electro-mechanical, equipment performance will eventually impact production throughputs. We help you navigate the useful life of your equipment to determine when to repair and maintain a system and when to upgrade and benefit from performance and feature enhancements.
By working closely together, our account teams can help you develop a multi-year plan that provides measurable cost savings opportunities due to system efficiency gains and consumable usage optimization. These strategic audits also help customers strategically sequence system upgrades of their older technologies to avoid the sticker shock created if your product identification equipment fails at the same time.
Our goal is to always to make it easy for our customers to make the perfect mark. Find the right product for your application by completing this short assessment. 
Call us today to learn more about how Diagraph partners with manufacturers to achieve product identification and packaging compliance success.