BEVERAGE: BOTTLE & CAN LABELING SOLUTIONS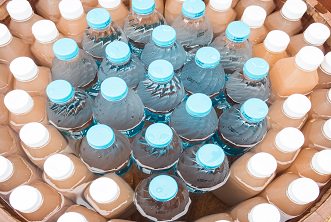 Diagraph's leading marking and coding technology has helped beverage manufacturers, ranging from beer and wine to soft drinks, bottled water and fruit juice producers guarantee freshness and quality with accurate coding. Whether you're a large or small-scale operation, it is a challenge to ensure that essential marks and labels transfer onto complex substrates like non-porous materials, rigid curves and opaque glasses at extremely high speeds.
Industry Challenges: As your bottling or canning business grows, the Diagraph customer and technical support staff can help you overcome obstacles that pose a threat to continually increasing your uptime and production profitability:
Common Codes: One-line expiration date, production codes, nutrition and ingredient statements, lot numbers, barcodes, "Born-On" and bottled dates
Partner with Diagraph to find the marking and coding solution to support your uptime operations and precisely meet production requirements without letting your brand integrity fall to the wayside. With the automotive industry, traceability, permanent marking, serialization and inspection marking are just a few factors, along with the application substrate, that we consider when navigating the optimal printer for your production lines.
Coding Technology Recommendations By Substrate
Comprehensive Guide to Date and Batch Coding in the Craft Brewing Industry
Decantae Mineral Water Linx 8900 Case Study
Edinburgh Beer Case Study
Fourpure Craft Brewery Linx 8900 Case Study