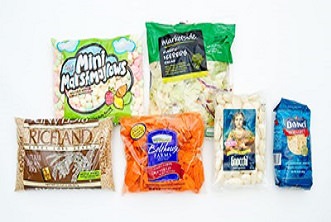 As a leading provider of marking and coding technology, Diagraph works with prepared food companies of all sizes to fulfill product traceability needs that can easily scale up for future capacity and complexity. Diagraph manufactures technology offering snack food, confectionery, dairy, frozen food, prepared food, and many other food producers a range of solutions for batch coding, date coding, ingredient labeling and barcode marking. With technologies that span the entire packaging line — from primary product to secondary packaging all the way to pallet labeling – our equipment aims to reduce your total cost of ownership (TCO) while minimizing downtime and producing high-quality marks.
Industry Challenges: We understand the challenges facing food companies. Diagraph's customer or technical support staff can provide insight on the following key questions:
Common Codes: One-line expiration date, production codes, nutrition and ingredient statements, GMO disclaimers, lot numbers, barcodes
Diagraph will work with you to right-size a solution that meets your specifications. We understand that packaging varies greatly within the food industry. From tetra packs to curved yogurt containers to instant coffee pouches, we offer a range of coding technologies aimed at providing your operation with an uptime advantage.
Choosing The Best Dairy Coding Solution
Choosing The Best Meat Processing Coding Solution
Coding for Safety & Traceability in the Food Supply Chain
Compact Hot Stamp Series Printer
Erlenbacher Frozen Cakes Linx 8900 Case Study
NGT Thermal Transfer Series Printer
Norwood Hot Stamp Series Printer
XL Thermal Transfer Series Printer