SOLUTIONS FOR MARKING CABLE, WIRE & TUBING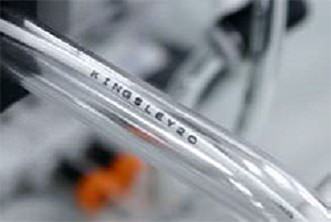 Diagraph understands the specific needs for marking and coding in the wire, cable and flexible tubing industries. Even in high speed, demanding production environments, product scrapping must be kept to a minimum which means accuracy and high-contrast marks are key. Diagraph's technology solutions can keep your production on pace while keeping in mind application and adhesion of marks onto a variety of substrates.
Industry Challenges: Coding requirements shouldn't detract from the quality of your product. The experts at Diagraph can assist you in your search for coding technology that provides flexibility to adjust messages without unnecessary downtime and produces legible marks even on dark, non-porous surfaces:
Common Codes: Lot numbers, logos and specifications
Diagraph is determined to provide marking and coding solutions that smoothly integrate into your wire, cable or pipe production lines. We can assist in finding the technology that meets your goals – whether increased uptime, faster line speeds or precision marking.
Coding Technology Recommendations By Substrate